helloladies posting in
ladybusiness
Sections
---
Observations on Claims of Progressive Reading Choices
This project is about the visibility of women in science fiction and fantasy reviews and whether the gender of the reviewer impacts that visibility.
It's not about reading statistics. Of course, when you start talking about reviewing, reading obviously informs the process of reviewing. It's hard to separate the two, so to explain: this year, like last year, our data came from reviews following a predefined list of inclusion rules instead of reading lists. Again: this project is about the visibility of women in science fiction and fantasy reviews and whether the gender of the reviewer impacts that visibility. What do any differences in the gender of authors reviewed mean? What's influencing any dichotomy we see when we look at data like this? What about the current structure of publishing, marketing, the reviewing community, and our specific cultures, causes this spread of numbers?
I have a deep-seated frustration with any debate about reading statistics. Earlier this year, Aidan from
A Dribble of Ink
posted an essay titled
A Personal Challenge: Gender Balance in 2013
. Nowhere in his post does he indict anyone for their reading choices.
With the first comment, the conversation was derailed from Aidan's goal and his personal reasons for choosing to set that goal for himself. What followed was yet another discussion about gender parity in reading, complete with defensive reactions from people whose reading habits weren't, at any point, ever invoked.
This behavior mirrors
some of the commentary we received last year
even though our study wasn't about reading, so it looks like there's every possibilitiy we're going to end up leading our feminist ponies to the same poisoned, Sexism 101 watering hole. In Aidan's post and our study last year, some claimed that gender blindness or related, completely imaginary skills freed them from any and all social, cultural, or internalized tendency to devalue or ignore women's contributions, and therefore, freed them from needing to critically analyze their reading choices. And of course, if they are exempt from examining reading choices, they're also exempt from examining reviewing choices.
This is not the first time I've seen one person's personal pledge treated as a targeted judgment against other people. It's not the first time I've seen
men
ignite the argument by being defensive. I find the argument of gender blindness suspect. I find most arguments about whether gender impacts someone's reading choices oblivious at best, and a bunch of dressed up, internalized, misogynistic malarky at worst, like we're some kind of post-feminist society and people making these claims sit on the board of High Overlords of Genre Progressives.
I rarely see general disinterest. I rarely see things like
"That's cool, bro! Good luck!"
, followed, in my magical fantasy land, with some recommendations of books by ladies attached. What usually results from these
"I just read whatever I want!"
proclamations is more insidious.
"I don't see/care about gender."
gets attached as an faux-progressive rider and the resulting calls of bullshit on that antiquated gem leads to these people just chomping at the bit to prove they just read what
interests
them. They claim they don't make it about
gender
in exceedingly creative, offensive verbal acrobatics that erases the very real struggle a lot of women in genre communities are still dealing with. So we have to live with the bile of defensive arguments foaming from the mouths of otherwise level-headed reviewers as they transform into Misogyny Monsters and start flipping tables because they have never learned to stop and think about why their first response is to grow defensive or disclaim their position. It's as if they've never learned to stop and
listen
. Women can face problems in every step: getting published, read, listened to. It can be a trial to be heard as widely as their male counterparts; to write, or do, or say something and watch everyone walk past it for the same thing written, done or said by one man, or two, or three. Listening is a key component in learning new and fascinating things about people who have different life experiences from you.
Listening is a progressive act.
Gender blindness is not.
To
quote a post that really helped me contextualize my racist worldview
:
"BLIND is not a moral positive. BLIND is an inability to perceive what the non-blind people around you can clearly fucking see. [...] And there is actually such a thing as race. If you can't see it, you're not doing yourself or anyone else any favors."
My culture told me my entire life to not "see" race, as a solution to the inequality where I live in the rural, American South. But that's not a solution because it allows us to ignore problems and sidelines productive discussion. It's the easy way to not deal with a difficult problem in which the people doing the ignoring are culpable.
In the context of that argument, I also take issue with
"I just read what interests me!"
, and its related follow-ups: "I don't want to read a book because of someone's junk"; "Only men write what I'm into."; "I just want to read a good story"; "I don't cater to the whims of the PC police"; "reading quotas are dumb!"; and "the only reading requirement should be quality!". There's more and I could go on, but suffice it to say I find all of those strawman arguments, meant to derail the actual conversation and invite congratulations about how awesome these people are for single handedly solving the gender issue, about as compelling as the idea of putting my face into a meat grinder.
If you're not used to doing so, thinking about
interests themselves
as being gendered and what that means for the interests people claim they use to choose their reading material is difficult. Many people use the blindness argument and stop. They don't consider the entire life of a story and its creator. They don't consider the entire publishing process and biases inherent in the gatekeepers. They don't consider how marketing is such a crapshoot and how X story that matches their X interests might be marketed away from them based on the gender bias inherent in the system. They don't consider that a book that might interest them could be given a cover, that, when paired with a woman's name, means they won't touch it, without even realizing they're dismissing it.
Jim Hines been has been proving for months
sexism in marketing exists and that
marketing matters
. People simply don't consider whether we, from the moment we emerge a wailing ball of blank brain tissue ripe for social and cultural marketing, are punched in the metaphorical face with gender
essentialism
that shapes who we are, what we're interested in, and which voices we trust to recommend us the culture we consume.
Asking people to think deeply about where their books are coming from, how hard it might have been for those books to get published, how they found the book and the possible biases inherent in the channels which led to their discovery, and why women are sometimes absent is
terrifying
. If you've ever tried to have a conversation about gender in SF/F fandom involving people outside your social group, you know what I mean. It's like inviting six angry poltergeists into your home filled with handcrafted family heirlooms passed down for multiple generations: everything gets
broken
, including your capacity to discuss anything more mentally taxing than adorable
gifs of baby animals
for weeks.
This project is about the visibility of women in science fiction and fantasy reviews. It's not about reading statistics or the judgment of reading statistics. If you feel defensive when gender parity is a topic, instead of lashing out to defend your reading choices, ask yourself why you feel that way and what you're actually defending and whether it's real, or just a mirage created by the privileges surrounding you. Don't clamor and blow hot air claiming progressive stances that simply do not exist.
— Renay
Our Sample and Methodology
Project thesis: when looking at a sample of bloggers reviewing SF/F, a majority of men will skew toward reviewing more men. A majority of women will skew toward a more equal gender parity, or the opposite in which they review a majority of women. There will be a handful of outliers.
The sites we used:
Last year's data was collected through snowball sampling; this year's data was collected via randomization in order to improve our process. The obvious disadvantage of having changed our sampling method is that comparisons between last year's results and this year's must be done with extreme caution. However, the advantages of using randomization outweigh any problems: a properly randomised sample, drawn from a sampling frame, allows us to
generalize
our results to the wider SF/F reviewing community with much more confidence than before.
In other words, last year we came up with our sample by asking one another and some of our fellow reviewers for recommendations of speculative fiction blogs, and this meant that it was possible that all those blogs that we and our friends read or knew about had something in common, a hidden variable that might influence the results in unpredictable ways
1
. Using a randomised sample this year means that unless the numbers are a complete fluke (which may be unlikely but is never impossible in science — for example, our sample could have accidentally picked up all the blogs where people review a lot of works by women — and it's why replicating studies matters), anyone else who repeats our work using a different sample from the same time period should get very similar results. In fact, we invite anyone interested in doing that to please go ahead. We feel that this confidence in our results is worth the problems surrounding direct comparisons between this year and last that a change in sampling method causes.
Our point of departure was the English language section of the
Grasping for the Wind list of SFF blogs
, with inactive blogs removed (we defined "active" as having at least 5 posts in the last 3 months). Publisher and bookstore blogs were also removed, as were news aggregator sites that don't post reviews. This list was complemented with a search on Google, Yahoo, Bing, and Ask for SFF blogs using various keyword combinations to avoid
self-selection bias
(bloggers asking to be included on the original Grasping for the Wind list), since that has the potential to skew the results. This additional step allowed us to have more confidence in our sampling process. Relying on search engines did limit us to blogs visible enough to be found by them; however, this suits the purposes of the project because we're concerned with the visibility of reviews of SF/F by women.
From the initial list and research, we created a sampling frame of 133 science fiction and fantasy blogs. We pulled two sets of 25 numbers from the list (removing duplicates when necessary) from random.org. We pulled 25 blogs from the sampling frame using the first set of numbers. In the cases where the blog turned out to be subsequently closed before or during compilation, newly inactive since the list was compiled, comprised of SF/F content but not prose book reviews, or inaccessible due to technical issues, we substituted a number from the second list. This was done to prevent us from choosing a blog ourselves if we ran into problems with the initial 25 blogs: instead, we would have another truly random selection drawn from the sampling frame. A total of seven blogs were substituted.
When collecting the data, we followed the same rules as last year:
1. Prose science fiction and fantasy fiction material in all related marketing categories only.
2. Fantastical horror (demons, magic, ghosts, etc.) is included, but psychological horror (torture, gore, etc.) is excluded. Horror listings may contain mistakes or oversights due to the fluid nature of this genre.
3. Comics and graphic novels are excluded as artist inclusion is too complicated and time-consuming for us at this time.
4. Young Adult work is included, but other marketing categories for children are excluded.
5. Anthologies are included by contributing authors.
6. Writers under a public, shared pseudonym are counted individually.
7. Co-authors were counted individually.
8. Guest posts from those who were not regular contributors to a blog were not included.
9. Authors can be counted multiple times if reviewed at different times in different entries.
As always, corrections are welcome.
2012's Data
The compilation of our data is available
in this Google document
.
Authors reviewed by gender: total
Reviews of women: 42%
Reviews of men: 57%
Reviews of author where gender is unknown: 1%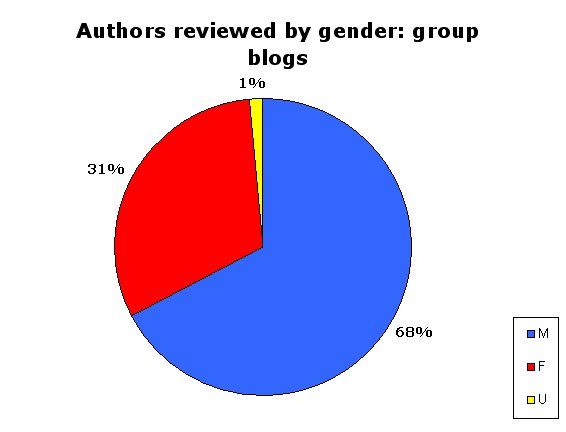 Authors reviewed by gender: group blogs
Reviews of women: 31%
Reviews of men: 68%
Reviews of author where gender is unknown: 1%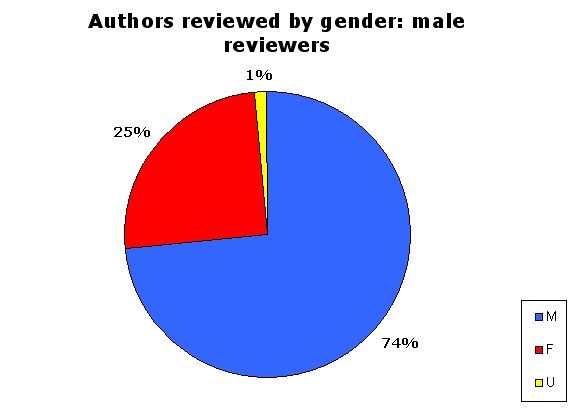 Authors reviewed by gender: male reviewers
Reviews of women: 25%
Reviews of men: 74%
Reviews of author where gender is unknown: 1%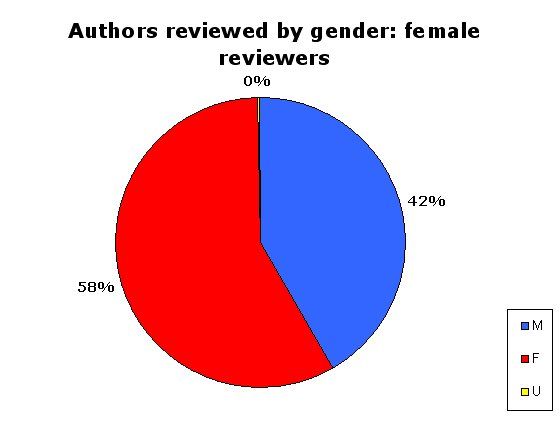 Authors reviewed by gender: female reviewers
Reviews of women: 58%
Reviews of men: 42%
Reviews of authors where gender is unknown: 0%
Authors reviewed by blog, sorted by gender of blogger
Footnotes
1
We're disclosing this for the sake of scientific honesty; not because we believe that the results from last year are hugely flawed. Indeed, the fact that there's no huge disparity between last year's numbers and this year's suggests they have external validity despite the problems inherent to the sampling method.
Discussion of 2012 Data
Comments are also welcome here, or you can direct inquiries to
thisisladybusiness@gmail.com
.
You can link to and quote from this post without asking, however, please do not reproduce the post elsewhere without our permission. You can link directly to the data portion of this post with
http://ladybusiness.dreamwidth.org/46742.html#data
Feel free to join in or follow the discussion on Twitter at #LadiesinSFF
Comment Policy
We have one
; please follow it.
Supplemental Material