helloladies posting in

ladybusiness
Sidetracks is a collaborative project featuring various essays, videos, reviews, or other Internet content that we want to share with each other. All past and current links for the Sidetracks project can be found in our Sidetracks tag.
---

➝ Listen to this
amazing Turret Anthem
! Even if you're not a Portal fan, it's great. (via
The Mary Sue
)
➝ There have been some more great posts about the Hugo Awards recently.
Kristen wrote one
, and Calico Reaction's
What Should I Read Before the Hugos?
turned up some additional things not on my radar.
Aidan shared a list of some of the interesting posts he's featured
, which was really useful. Then came the other day when
Seanan McGuire posted about some of her choices
(some of which I hadn't heard of, yay for suggestions!) and quoted something I wrote and called it amazing? Yeah, I'll be over there. >.>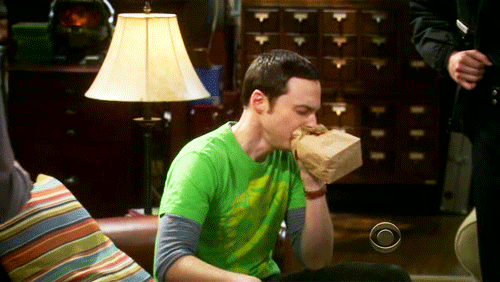 But this made me think; how many bloggers actually participate in the award? Because all in all I don't see a lot of bloggers talk about their nominations before or after they've closed, nor do I see a lot of interaction on blogs about the finalists or winners. Is it happening on mailing lists or message boards (and therefore places I don't know exist or don't go to) or something? Is this secretly a closed project where talking about what you plan to nominate is in bad taste? #mysteries
➝
This awesome drawing may be a movie one day.
I would not be adverse to seeing it, either. Look at that teddy bear face down the monster!
➝ One of my favorite books by Neil Gaiman (err, maybe the only favorite book, actually) is
The Graveyard Book
I am super excited to see
it might be on its way to becoming a live-action movie
. Although I
was
pretty sad when the stop-motion version fell through, this is a story that can be done either way now that we've come so far with technology. Yes, please, Hollywood. ;__; (via
io9
)
➝ I implore you to
watch this music video
and then
read this preview of the most amazing lyric deconstruction you have seen so far in 2013
. I bet you five adorable kittens you will click through to read the whole thing.
➝
Stevie Nicks is a queen, a witch, a dragon; she's in control. Stevie Nicks is there for us.
This essay is full of so many great quotes.
When you grow up as a girl, the world tells you the things that you are supposed to be: emotional, loving, beautiful, wanted. And then when you are those things, the world tells you they are inferior: illogical, weak, vain, empty. [...] The world says that you don't have a right to the space you occupy, any place with men in it is not yours, you and your body exist only as far as what men want to do with it.
➝
Gerard Way wants you to love yourself, okay?
(DO IT.)
➝ Have your weekly dose of
Jennifer Lawrence being awesome
.
---

➝ I don't know much at all about asexuality and the last thing I want to do is to appropriate, but
this post about defining significant others
still really resonated with me, especially this bit:
It's not so much the idea of having a significant other that irks me than the quite narrow expectations that seem to come attached to it.

The first is that there should be a significant other at any point in your life, and that that person will be the person you are in a romantic and sexual relationship with, as per the standard formula. They will be the person that comes first in your life, the person whom you are closest to, the person on whom you can depend more than anyone else.

The second is the assumption that there will only be one person who fulfills this role; one person who will be thesignificant other,. At least, one person at any given time. I find that this assumption still gets played out quite bit in the romantic ace community.

Neither of those expectations sit well with me, for reasons of compulsory sexuality as well as exclusion of the idea that you can love people differently and that you can love more than one person. Unfortunately, the idea of a significant other gets caught up with all those other ideas about love and romance and ends up just re-iterating the same narrow definition and pedestalling of love – that is, romantic-sexual love for one person that forms the be-all and end-all of your existence.
I agree with this completely even though I do have a significant other in the traditional sense of the term. But it seems to me that not expecting one single person to fulfill all your emotional needs all the time makes for healthier relationships.
Reading this post put me in mind of a really helpful conversation I had with a friend recently: it was about the concept of the BFF and how it's sold (to women in particular) in a way that's reminiscent of the concept of the "soulmate". You're expected to have another woman in your life who is (and ideally has always been) your one best friend; and if you can't or won't rank your friend, or if you have several people you've felt closest to at different points in your life and who all matter to you, you're made to feel inadequate and like you're lacking something. Well, screw that. I'm done with letting this narrative have any hold on me. I have different friends that I share completely different aspects of myself and of my life with, and that's absolutely fine.
➝ Sort of related and very timely for me:
John Green on why the "just" before "just friends" grates
(dear world, non-romantic relationships matter too). And here's Hank's response video,
How to Make Friends
, which is even better and which made me tear up.
➝
Joss Whedon's Much Ado About Nothing
has a release date! Excited :D
➝ And look, there's a list of
comics by ladies
at Flavorwire (most of which were immediately added to my wishlist).
➝ Lastly,
Smuggler!Ana
introduced me to a blog by a third Ana this week and I'm completely in love. Here's Ana Mardoll on
why deconstruction (or criticism) matters
and on
liking problematic things
:
Being able to like or dislike the things we experience is a freedom of choice that no one should give up or try to take away. Being able to discuss the aspects that we like and the aspects that we didn't is a valuable way to compare experiences and express unique viewpoints. Being able to find something worthwhile in an otherwise-problematic piece reminds us that even bad art can have a purpose; being able to find problems in an otherwise-perfect piece reminds us that even good art is created by flawed humans. Being unable to agree which things are worthwhile and which things are problematic and which things the author intended or not sharpens our communication abilities and our critical thinking skills.

Artistic analysis isn't about finding The Answer. It's not about making a list of Good Art and Bad Art and then having everyone realign their tastes to match. It's not about coming to an agreement. It's about experiencing different viewpoints and understanding why other people think differently from you. And it's about taking those new perspectives with you and applying them to the next piece of art you experience.
♥
---
➝ It's been a long week. Shall we watch some tigers play in the snow first?
➝
American women can now serve on the front line.
I think this is especially interesting because it challenges the idea that women are physically inferior and goes against all those 'but what about the menz emotional reaction to seeing female soldiers get shot' articles. A score for equality.
➝ The Mary Sue has a list of
eight ideas for historical TV series based around women's lives
. WANT.
➝
Harvey the kitten has to walk on his elbows because he has no leg bones in his front legs
. He is adorable (although in need of an operation soon to stop him from injuring his spine). Why would anyone ever try to give him away?
➝
Look at this gorgeous rainbow dress made from children's books.
Hundreds of writers are now trying to work this into their next novel.
➝
Peanut butter stuffed Oreos with sprinkles.
Treats to save for the very worst days I think.
➝ And speaking of pick me ups for the bad days, try getting through
'Neon Pegasus'
without feeling a little bit more hopeful. I love how Parry Gripp has managed to create this intriguing backstory through a few simple lyrics.