helloladies posting in

ladybusiness
Sidetracks is a collaborative project featuring various essays, videos, reviews, or other Internet content that we want to share with each other. All past and current links for the Sidetracks project can be found in our Sidetracks tag.
---

➝
Keep Calm and Carry On: The secret history
. Have I mentioned that this is the
best bookshop ever
?
➝
The surgeoness: the female practitioner of surgery 1400-1800
is a really interesting sounding (and freely available: hooray for open access) academic article on women in medicine. I have not yet read the whole thing, but the description reminded me of the bits I actually liked from Ariana Franklin's
Mistress of the Art of Death
(sadly the book as a whole as not a success with me).
➝
An introverted call to action: Susan Cain at TED2012
. Her book
Quiet
has been getting good reviews; being an introvert myself, my curiosity is definitely piqued.
➝ A collection of
minimalist children's story posters
. So pretty.
➝
The Women of National Geographic in photos
.
➝
Sarah Waters on why Sylvia Townsend Warner deserves to be rediscovered
. yay, Sarah Waters ♥. I've owned
Lolly Willowes
for ages and her wish is my command: I'll definitely read it soon. There's also a great companion piece by
Belinda Webb
, pointing out how all these rediscovered writers tend to be middle class (and white, I would add) and celebrating working class writer Ethel Carnie Holdsworth. I agree that these are very important conversations to have, but it's also important that they don't take an either/or approach (which, to clarify, I'm not saying Webb does). My plan is therefore to read them both.
➝ More authors celebrating other authors:
Aimee Bender on Angela Carter
.
➝
The top 20 most beautiful bookstores in the world
according to Flavorwire.
➝ There's a new website listing
feminist friendly fantasy books
. A very useful resource, and I would love to see someone do the same for science fiction.
➝ Over at The Center for Fiction, Kate Bernheimer, Kevin Brockmeier, Sarah Shun-lien Bynum, Timothy Schaffert, and Maria Tatar tells us
why fairy tales matter
.
➝
Hanne Blank picks a playlist
for
Straight: The Surprisingly Short History of Heterosexuality
at Largehearted Boy. I always really enjoy these posts. Also, I'm pining for this book so much it's not even funny.
➝ In honour of International Women's Day, here's
a top ten feminist books from The Boy Least Likely To
. Like I needed more reasons to love this band.
➝ Ever wondered why cats seem to run the Internet?
Here are some theories
.
➝
Redwood and Wildfire by Andrea Hairston (Aqueduct Press, 2011) is the winner of the 2011 James Tiptree Jr. Award
:
Hairston incorporates romantic love into a constellation, rather than portraying it as a solo shining star. Her characters invoke a sky where it can shine; they live and love without losing themselves in cultural expectations, prejudices and stereotypes, all within a lovingly sketched historical frame.

"Intersections of race, class, and gender encompass these characters' entire lives. They struggle with external and internal forces around questions of gender roles, love, identity, and sexuality. This challenge drives how they move through the world and how it sees them. The characters in Redwood and Wildfire deftly negotiate freedom and integrity in a society where it's difficult to hold true to these things."
I want it SO BADLY.
---
➝ The
longlist for the Orange Prize
has been announced. Every year, I watch with joy as the list is announced and the conversation on lit blogs becomes exclusively about female authors: does everyone like the list, who is missing, who was robbed and on and on. All that chat accompanied by lovely pictures of the books that made the list and enthusiastic fan championing in the comments, really makes all the Orange reveals the highlight of the lit year.
➝ Some follow up on Paul Cornell's panel parity idea, which gives reason for optimism. In
'Tammy Taylor Takes a Seat'
, Cornell talks about how he recently witnessed a comics writer Simon Spurrier and a comics creator Tammy Taylor stand up for panel parity. In contrast to Cornell's proposed plan Simon contacted Tammy
before
the convention. She then agreed to be involved in replacing him to talk about a subject she knew very well.
Cornell's resistance to contacting women who could replace him on panels was probably the biggest problem I had with his conception of enforcing panel parity. Although his explanation of why he felt uncomfortable doing that fits in with ideas of ally behaviour that I'm familiar with (the ally does not get to decide who is best placed to represent the group that the ally is trying to support), his approach scared the beejezuz out of me personally. I just can't imagine being expected to talk about a subject, even one I knew a lot about, without time to mentally prepare myself and implications in the comments that women who can't do that lack something made me real uncomfortable. There are other issues, with this approach which have been discussed by other women, but this was the big freaking roadblock for me personally, so seeing someone successfully use another strategy was a big relief.
Cornell also describes the reaction of his friend Farah Mendelsohn to his conception of the panel parity project, as a leading feminist SF academic:
'On this same subject, as I've mentioned before, a few weeks ago I got a life-changing email from a friend of mine, SF academic Farah Mendlesohn, in which she took me to task for the way I'd initially approached the Panel Parity campaign. She called me on my egotism, and on various specifics of how I'd set up the plan. It was a hard message to read, but I realised, after a lot of huffing and puffing, that she was right. And so I made several changes to the plan. (I've referred to several aspects of this since then, but never all in one place, apart from editing the original blog post.) Si's approach, for example, in actively finding a woman creator beforehand to take one's place on a panel, is one I now follow. (At the time, I felt I shouldn't be the one choosing who was 'worthy', but that puts even more pressure on those who might come and take a panel place.) I'm also now at pains to point out that I'm the latest in a whole history of people who've been doing this for decades, including many creators who always let convention organisers know beforehand that they won't appear on non-balanced panels.'
It's nice to see a woman get through to someone on issues of feminism. I'd like to celebrate the work of Farah Mendelsohn, Tammy Taylor and Simon Spurrier in affecting the way that panel parity projects are being under taken — so well done. I'm also really excited to hear further news about an upcoming female led panel parity campaign, which is mentioned in this post:
'And I've turned down anything that turns the Plan into personal publicity, sending such inquiries to the female-led 50/50 campaign, soon to be announcing itself. (Drop a line to hagelrat@googlemail.com to get involved.) There's a fine line between trying to not put oneself in the spotlight and just hiding, but I'm attempting to walk it. All in all, I intend to learn from female creators along the way, and adjust my approach based on their advice and help. I hope to be an ally, not a supporter who offers that support with conditions attached.'
➝ A judge used to order certain offenders
to read and report on Les Miserables by Victor Hugo
, as part of the rehabilitative portion of their sentence. Yes I know that sounds horribly naive, but hear the man out:
'Willmore does not believe a person can be reformed by reading, but he has seen the introspection and growth it can inspire.'

Even coming out of the musical is a total mindfuck, guaranteed to make you want to try harder at being a human being. And the rehabilitation of offenders is one of the most difficult parts of the justice system, once someone has been sentenced. As long as this is a small part of a solution, not the solution I think it's great. (via Bookslut)
➝
Downton Paper Dolls
come with female empowerment accessories.
➝ A new Dr Who blog has opened to discuss the women of the show, being a feminist fan of the show and all kind of Who female things! It's called
Dr Her
and it makes me want to jump up and down with excitement. I love the female characters (and the actresses) from this program and they so deserve a dedicated space on the interwebs, as do the female fans of this show.
➝ Classical Bookworm found
a bookish bath tub
for reclining in with champagne, bubbles and more books.
➝ bookshop
compiled a list of female-centric and female positive TV programs and films
as suggested by commentors. So much to potentially watch.
➝ Something to make Ana smile:
five hundred German fairytales that were collected and ended up locked away in an archive have been rediscovered
. Please, please let them be translated into English.
➝ And The Bloggess has officially created
The Unicorn Success Club
. There are
t-shirts
. For those who need more success, or unicorns —
the Double Unicorn Success Club
. I mean, of course! I think we have enough unicorns between us to be in this club.
---

➝ Writing has been tough for me lately, which includes reviewing. I am also writing a 20k Teen Wolf story that's all,
"Oh, you thought you were going to write about pretty boys making out? GUESS AGAIN."
Then I found this: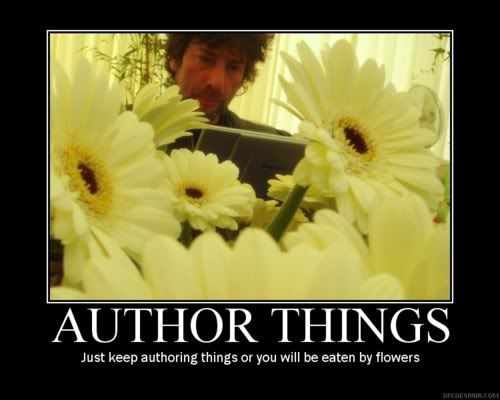 Good advice.
➝ Okay, I have feelings about Orson Scott Card and they hover between "apathy" and "unchecked fury and raging disappointment". But
Ender's Game
was a gateway for me and so I can't help but be excited about the
casting for the upcoming movie
. They genderswap a character! The cast of kids is amazing and diverse! HARRISON FORD? HAILEE STEINFELD? Sign me up for reliving a piece of my childhood, even if it is with a movie made from this troublesome book by this raging jerk author.
➝ In more movie news of the "oh god please don't make it suck, just don't" variety,
The Book Thief has a director
. THIS COULD GO SO WRONG, or it could be so right.
➝ My motto for next week (after an extremely stressful week) is the following:
➝
I saw the awesome Japanese poster for Brave
and then I saw the amazing Japanese trailer and can this movie please, please, just get in my eyes already? I found the promotions interesting. Isn't it worth noting that the Japanese trailer is much more focused on Merida's many roles? I can't remember where I saw it mentioned, but it was said that this is being marketed like a Studio Ghibli film, who have had tons of success with female characters.
➝ Would you like
some dubstep violin
? I thought so; you're welcome.
➝ A link I wish had had last week that really needs no commentary:
Women Deserve Better
.